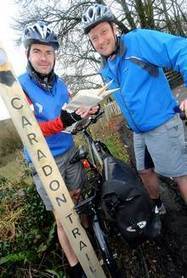 A new 17 mile trail covering some of the most beautiful parts of Bodmin Moor and surrounding settlements will be officially launched on Saturday, 8 March with the Caradon Hill Chestnut Cycle Challenge The Caradon Trail links rural communities to many of the key heritage sites in the Caradon area, using mostly quiet, rural, lanes which are perfect for walkers and cyclists The new trail has been developed by the Caradon Hill Area Heritage Project (CHAHP), a multi agency group led by Cornwall Council which also includes representatives of parish councils, landowners, commoners and the local community
Elliot Walker's insight:
This looks like it could be worth a trip up to Bodmin Moor to cycle the new Caradon Trail. This road trail covers some of the most scenic locations around the Moor.
Supposedly suitable for varying levels of fitness and abilities. All in all about 17 miles of way waymarked trails to explore. You can even download an app featuring information on landmarks and scenery in the area, much of which is a UNESCO World Heritage Area,
Seems like an adventurous way to explore some of Bodmin Moors best features.
See on www.cornwall.gov.uk
Categories: Blog Adventure Sports Cycling & Mountain Biking Tags: Cycling